Australian greyhounds found in China have yet again hit our headlines. The ABC and Free the Hounds unearthed more evidence and footage of greyhounds being treated cruelly and used as commodities.
Once finished racing in Australia, and unwanted by their owner, they are sold and shipped offshore to countries not approved by Greyhounds Australasia. The owners also do not follow the controlling bodies rules of racing and neglect to have the dog desexed at retirement. These greyhounds have then been shipped out as "companions".
This is not how Australians should be treating our greyhounds, or any breed of dog. 
MAKING OUR MEMBERS OF PARLIAMENT AWARE
In 2021, Senator Mehreen Faruqi introduced the Customs Legislation Amendment (Commercial Greyhound Export and Import Prohibition) Bill 2021.
The legislation will ban the export and import of greyhounds to and from Australia for commercial purposes including breeding and racing. This ban also includes prohibiting the export or import of breeding material.
The Inquiry was held on Friday 15 September and now we await the findings of the Rural and Regional Affairs and Transport Legislation Committee. The committee is due to have their findings finalised to report on 18 October 2023.
The goal of Free the Hounds and the Coalition for the Protection of Greyhounds is to have a recommendation that the Senate pass the bill in full.
ALWAYS MAKING EXCUSES
ABC Investigations has tracked several dogs which were exported to the United Kingdom, United States and South Africa but later sent to China and advertised on the Greyhound YY breeding site.
Greyhound Australasia's CEO Simon Stout told ABC Investigations: "Most greyhound exports occur within the passport system, though we acknowledge there are some bad actors who try to get around the system."
One good example is the case of Australian greyhound Katoby, which in September 2020, was exported to South Africa, according to microchip records obtained by greyhound welfare group Free the Hounds.
But Katoby ultimately ended up in China, appearing on the Chinese breeding website Greyhound YY. Videos posted on social media show Katoby advertised for breeding.
In the case of Mikey Doo and Federal Morgan, both sent directly to China this year, the Greyhound Welfare & Integrity Commission NSW said: "These greyhounds were rehomed by industry participant owners and placed on the Companion Animals Register [CAR], thereby making them pets.
"Once former racing greyhounds become pets, their export becomes the responsibility of the Australian Government."
The fact that seems to be omitted here is that the industry participants should have had these dogs desexed prior to being rehomed, under the rules of racing.
This cruel trade has led to the unspeakable suffering of thousands of Australian dogs and their progeny. It is time that the Federal Government under Anthony Albanese implements this ban.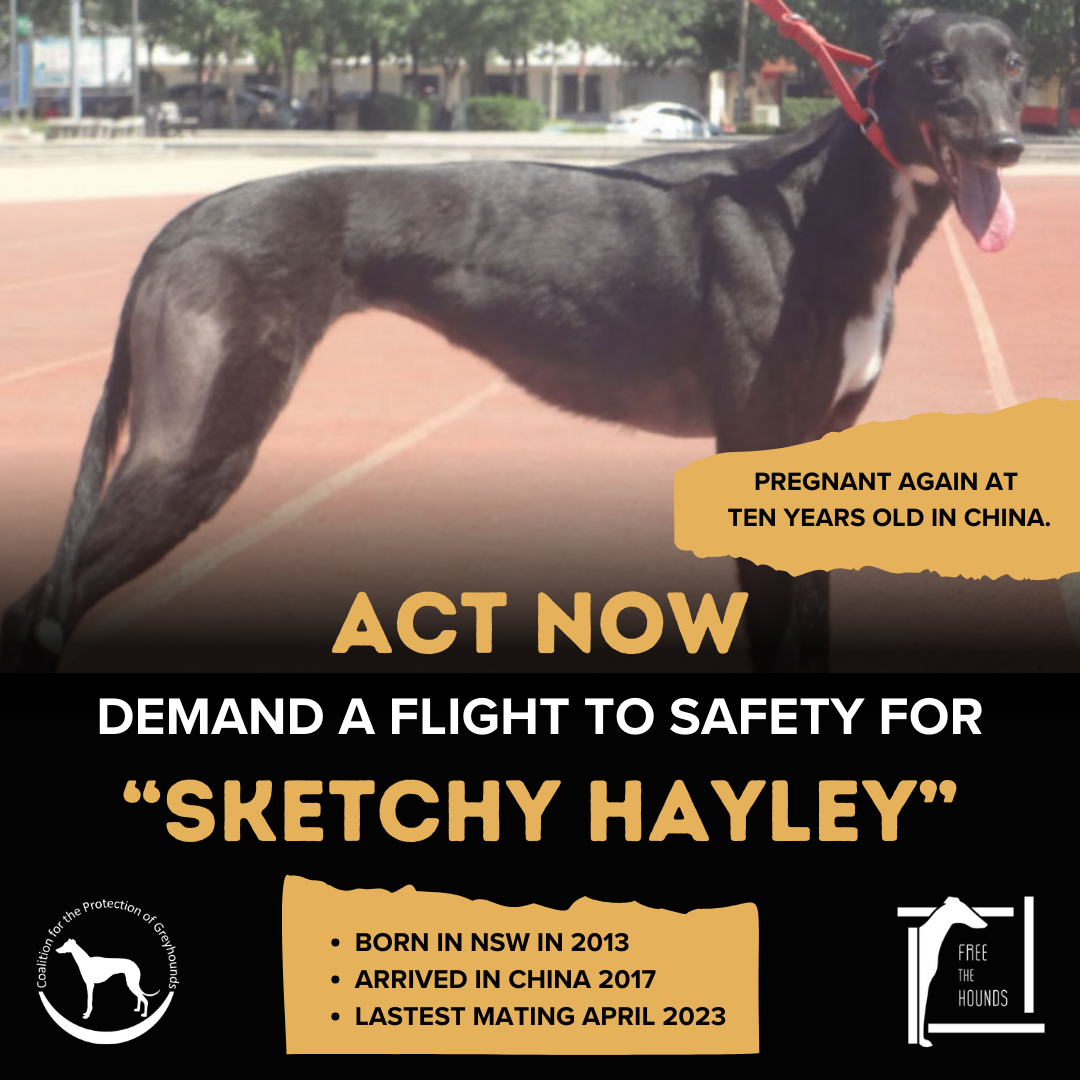 We are asking the Federal Government to step in and get these dogs to safety. This will also end the production of more progeny.
SEND AN EMAIL TO YOUR FEDERAL MEMBER OF PARLIAMENT AND ASK THEM TO GET OUR GREYHOUNDS TO SAFETY. 
You can use our email template, but the most persuasive emails will also include your own words.
Free The Hounds acknowledges the Traditional Owners of country throughout Australia and recognises their continuing connection to land, waters and community. We pay our respects to them and their cultures; and to elders both past and present.
We are committed to building an inclusive culture that celebrates the diversity represented in our community. We welcome all people regardless of age, gender identity, ethnicity, ability, sexuality, faith, religion, and all other identities represented in our community.