Our Mission
end greyhound racing
Since 2015, Greyhound racing in Western Australia has killed more than 1,300 healthy dogs. Find out how you can help end Greyhound racing in Western Australia.
Find out More
updated 28 November 2023
Greyhound Racing Stats
**These numbers do not include injuries suffered off track
Greyhound racing deaths since January 1, 2023
Greyhound racing fractures & major injuries since January 1, 2023
Get Involved
You can take action for greyhounds right now
EMail your Federal Member of Parliament now.
The Inquiry into the Customs Legislation Amendment (Commercial Greyhound Export and Import Prohibition) Bill 2021 introduced by Senator Mehreen Faruqi was held on Friday 15 September 2023.
The Rural and Regional Affairs and Transport Legislation Committee will now review the evidence and produce its findings in a report. The committee is due to have the report ready on 18 October 2023.
This is where you come in. This is where we need each and every one of our followers to send emails to their Federal MP. If they will not change the legislation, the least our Government can do is help to facilitate getting these beautiful souls to safety. We will continue to fight for the greyhounds exported from our country and forgotten by greyhound racing participants.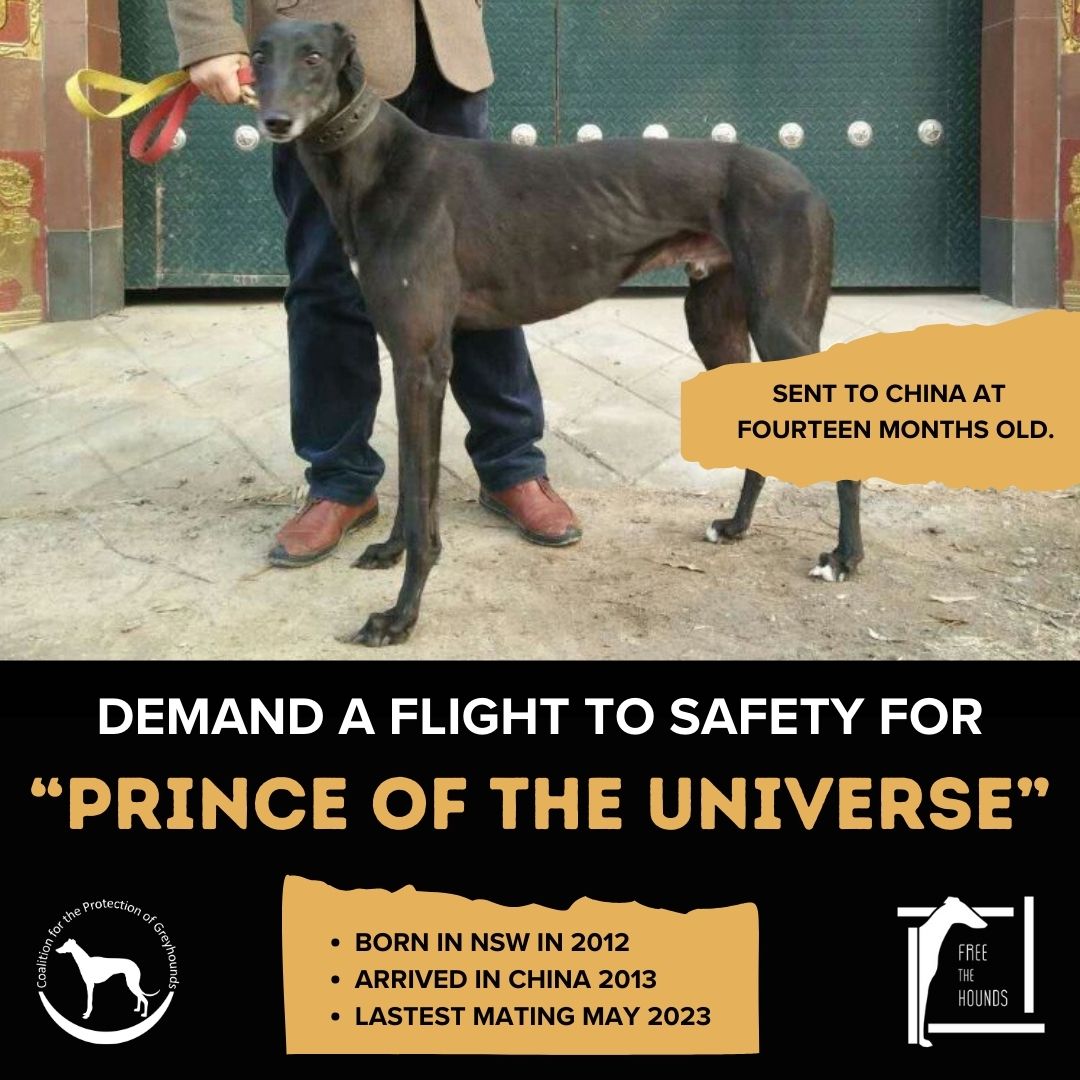 greyhound racing stats
Greyhound racing injuries & deaths
Over 1,300 Greyhounds have died on WA race tracks since 2015
This number is only those that we are able to indentify, there are very likely more that will remain unknown.
91 greyhounds suffered 96 fractured bones on race tracks in Western Australia in 2022
Of these fractures, 44 were to the right hock (ankle), due to the curvature of the track. Suffered as the greyhound runs around the bend.
Approximately 37% of greyhounds are injured every year on WA tracks
In the 2020-2021 financial year, 1,659 individual greyhounds raced with 626 of them suffering any injury (of all severities, not just major as RWWA state) bringing the actual injury rate to 37.73%. 
What Drives Us
Our Mission
Free the Hounds is a greyhound welfare advocacy group based in Western Australia and launched in August 2015. Free the Hounds is a non-profit organisation incorporated in WA under the Associations Incorporation Act 2015.
Our purpose is to prevent the harm and inhumane treatment of greyhounds, including wastage of greyhounds by the racing industry, by informing the public of the facts of greyhound racing and supporting welfare reforms. We support an end to commercial greyhound racing.
Get Involved
If you are passionate about helping greyhounds, we'd love to hear from you! 
We're always in need of volunteers to help with events, fundraisers, research, social media, our website and more. 
Fractures & Deaths
Race Reports
Race 10 - Grade 6/Country/380 - Grade 6 A post race veterinary examination revealed that MOMENT TO BOOGIE had a right hock fracture and has been stood down for 90 days. The greyhound was medically stabilised and then transferred from the racecourse to a veterinary hospital for assessment and treatment under the RWWA Greyhound Injury Full Recovery Scheme.Race Information Deaths   Fractures 1  ...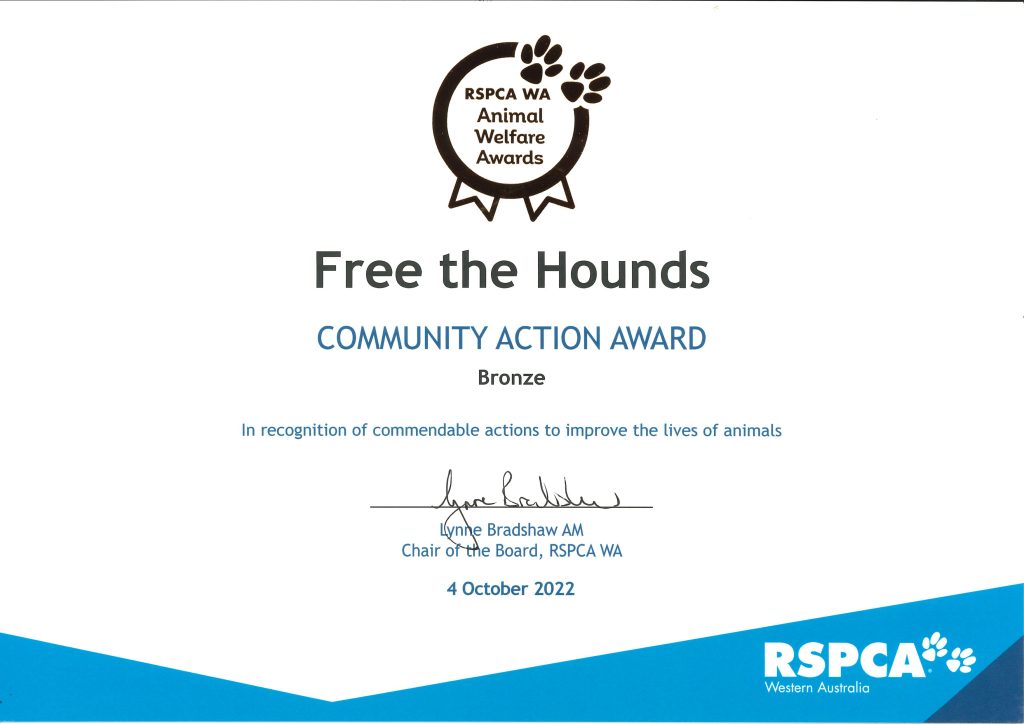 Free The Hounds acknowledges the Traditional Owners of country throughout Australia and recognises their continuing connection to land, waters and community. We pay our respects to them and their cultures; and to elders both past and present.
We are committed to building an inclusive culture that celebrates the diversity represented in our community. We welcome all people regardless of age, gender identity, ethnicity, ability, sexuality, faith, religion, and all other identities represented in our community.